The Oshawa Museum offers tours year round!

Due to COVID-19, our tour procedures have changed - please review this information carefully. If you have questions, please call 905-436-7624 x 106 or send an email to the programming department (
programming@oshawamuseum.org)
The Oshawa Museum is located at 1450 Simcoe Street South, in Oshawa's beautiful Lakeview Park
There is plenty of free parking available and additional amenities in the park.
COVID-19 Tour Change: Start Your Visit at Henry House (Grey Stone building)
Your tour guide will meet you out front of Henry House at your scheduled tour start time - pay close attention to the time on your Eventbrite ticket!
Tours are admission by donation ($5/person is suggested)
Members of the Oshawa Historical Society receive free admission as a membership perk! There are also 'Museum Passes,' available from the Oshawa Public Library, so you can visit the Oshawa Museum for free.
COVID Tour Change: Tour times are by appointment only
September 2021 - To help with everyone's safety, tour times are available at 1pm and 2pm and must be booked in advance via Eventbrite. Your group must be 6 people or less, and you must only attend with your travelling bubble (only those in your household)
COVID-19 Protocols
Masks, worn over your nose and mouth, are required before you can enter any museum building.
Visitors are asked to 'self-screen' for COVID-19 symptoms before arriving for your tour, and if you have any symptoms, please contact the OM to arrange to have your tour rescheduled.
Tour Options: Guided or Audio
To help with physical distancing, there are two tour options available for Henry House: Guided and Audio
The Audio Tour
We are launching our new audio tours available wherever you get your podcasts - simply download and press play, There are three experiences to choose from:
Our standard tour, with a tour through the Henry House Gardens,
An abbreviated version of the above mentioned tour
A tour designed especially for families and kids!
Signs are posted encouraging social distancing and self-screening upon entrance. Plexiglass shield at the main desk at Guy House. If you are experiencing any symptoms of COVID-19, such as coughing, fever, or shortness of breath, please remain at home.
Regular disinfecting of frequently touched surfaces
Where items (e.g. museum artefacts) are not able to be disinfected, signage is present to indicate this. Where possible, hands-on artefacts and displays are removed.
If you have booked through Eventbrite, contact tracing is done with your order. If you call to book a tour, we will ask for your name and phone number/e-mail upon entry.
All contact tracing information will be kept private and will only be used where necessary for contact tracing.
You will asked to use hand sanitizer upon entry.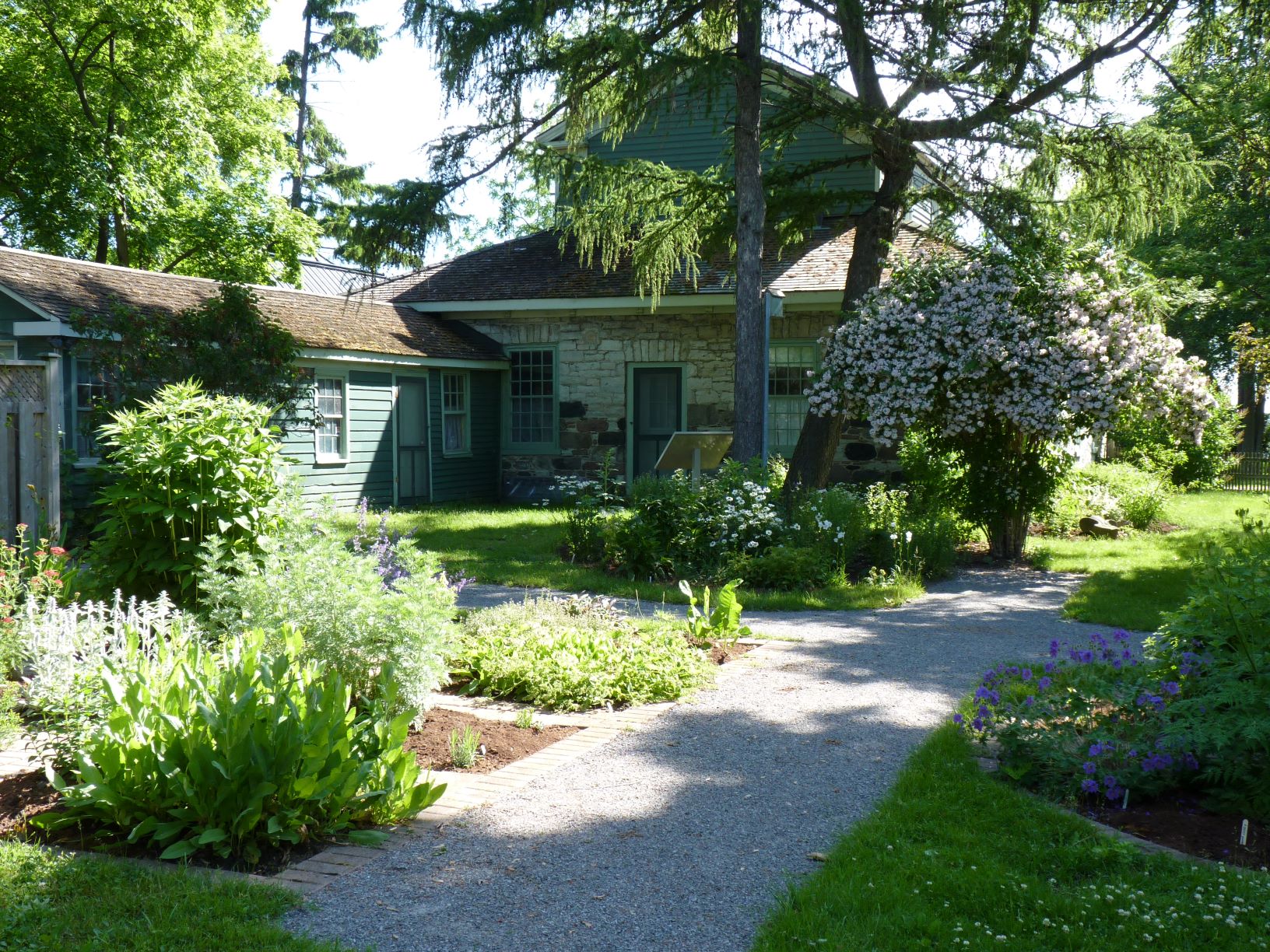 The Henry House Heritage Gardens
The Heritage Gardens behind Henry House feature various perennial herbal plots, including culinary, medicinal, tea and dye herbs. The garden space is interpreted as the family's garden, illustrating how the herbs would have been used and why. The Heritage Gardens feature two designated heritage trees, recognized by Trees Ontario, a fleur-de-lis from the Centre Street United Church, dated 1874, and a garden brick donor walkway.

The gardens are used for programming throughout the summer, including our popular Victorian Teas and Yoga in the Garden.