The Oshawa Museum offers tours year round!

Due to COVID-19, our tour procedures have changed - please review this information carefully. If you have questions, please call 905-436-7624 x 106 or send an email to the programming department (
programming@oshawamuseum.org)
The Oshawa Museum is located at 1450 Simcoe Street South, in Oshawa's beautiful Lakeview Park
There is plenty of free parking available and additional amenities in the park.
Tours are admission by donation ($5/person is suggested)
Members of the Oshawa Historical Society receive free admission as a membership perk! There are also 'Museum Passes,' available from the Oshawa Public Library, so you can visit the Oshawa Museum for free.
During open hours, Oshawa Museum tours are offered on a drop-in basis! The last tour we can accommodate is 30 minutes prior to closing.
COVID-19 Protocols
For visitors over the age of 2, masks, worn over your nose and mouth, are required before you can enter any museum building.
Visitors are asked to 'self-screen' for COVID-19 symptoms before arriving for your tour, and if you have any symptoms, please arrange to visit on a different day.
Tour Options: Guided or Audio
To help with physical distancing, there are two tour options available for Henry House: Guided and Audio
The Audio Tour
We are launching our new audio tours available wherever you get your podcasts - simply download and press play, There are three experiences to choose from:
Our standard tour, with a tour through the Henry House Gardens,
An abbreviated version of the above mentioned tour
A tour designed especially for families and kids!
The audio tours are available on Apple Podcasts or Google Podcasts.
Signs are posted encouraging social distancing and self-screening upon entrance. Plexiglass shield at the main desk at Guy House.
Regular disinfecting of frequently touched surfaces
Where items (e.g. museum artefacts) are not able to be disinfected, signage is present to indicate this. Where possible, hands-on artefacts and displays are removed.
You will asked to use hand sanitizer upon entry.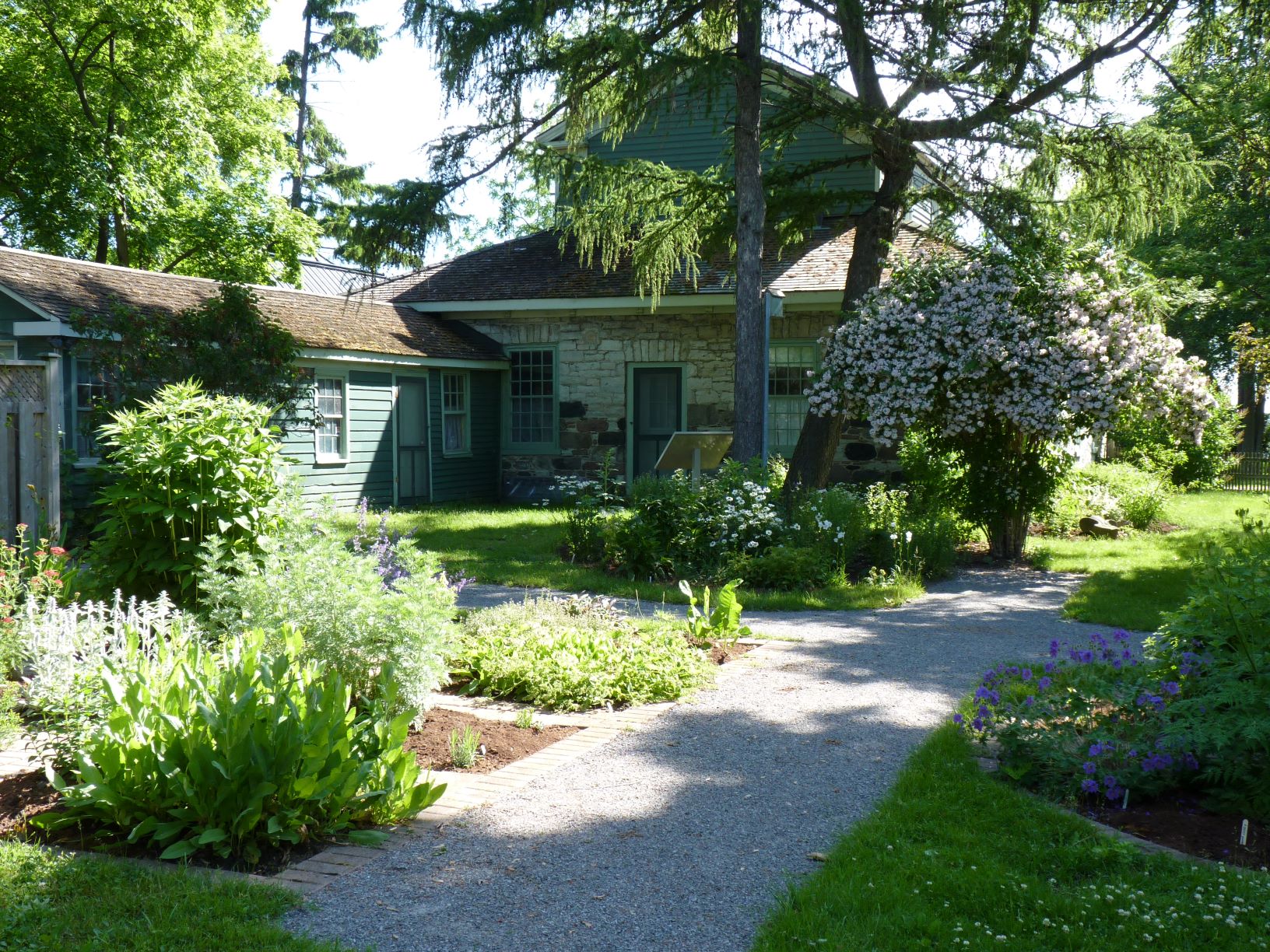 The Henry House Heritage Gardens
The Heritage Gardens behind Henry House feature various perennial herbal plots, including culinary, medicinal, tea and dye herbs. The garden space is interpreted as the family's garden, illustrating how the herbs would have been used and why. The Heritage Gardens feature two designated heritage trees, recognized by Trees Ontario, a fleur-de-lis from the Centre Street United Church, dated 1874, and a garden brick donor walkway.

The gardens are used for programming throughout the summer, including our popular Victorian Teas and Yoga in the Garden.

What's in the Robinson House Galleries
Leaving Home, Finding Home in Oshawa:
Displaced Persons and Stories of Immigration
The aftermath of World War II saw a world faced with mass movement of human beings on a scale never before seen. Initially the idea was to "repatriate" people back to the countries from where they had been displaced, and there were over 1.1 million people left who were determined "non repatriable." The job of finding homes for these individuals was handed over to the newly created International Refugee Organization (IRO).

In 1947 the Canadian government agreed to open the borders for 5000 displaced persons to come to Canada and begin life anew.
Since 2016, the Oshawa Museum has been undertaking a very important oral history project. The focus of this project was to
collect the memories of those who arrived in Oshawa as displaced persons and post-war immigrants, many hundreds of whom resettled in Oshawa due to economic and social factors, positively contributed to the city as both an industrial hub and as the proud beneficiary of a rich cultural landscape.